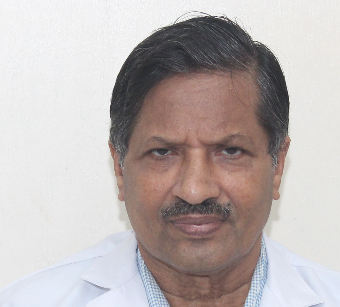 Dr. Shenoy K T
Medical Gastroenterology
Professor&HOD
MBBS, MD (Gen Med), DM (Gastro)
40 years of experience
Make an Appointment

Area of Interest
Tropical Pancreatitis
Hepatitis B & C
NAFLD
GERD & Tuberculosis

Additional Responsibilities

Achievements, Memberships, Awards
Ex-Head of Gastroenterology, Medical Education Unit, Kerala
Ex- Dean, Faculty of Medicine, University of Kerala (2009-2011)
Ex -Director, Clinical Epidemiology Research and Training Centre, affiliated to the Global Network of INCLEN at Medical College, Trivandrum (2003-2006)
Ex-Course Coordinator, Global Health Program for students from Karolinska Institute, Stockholm, Sweden (1996 to 2006)
Ex-Coordinator, Linnaeus Palme Exchange Program for students and faculty from Medical College, Trivandrum (2001 to 2006)
Currently, member in the planning committee, school of Health Policy and Research Cell of Kerala University of Health Sciences.
Developed Task Force Document on Health vision Kerala 2025 and Health Policy Draft in 2014 for Ministry of Health Govt. of India and Kerala
Ex- State Coordinator for communicable diseases
Member of the state for Modernizing in Government program, drug formulary, biomedical waste disposal for Health care and European Health Commission Projects and UNFPA projects.
Member in the Macroeconomics Project under Ms. Sujatha Rao and Primary Health Care Reforms
Implementing officer for the Telemedicine Unit in Trivandrum Medical College
Lead investigator in (i) the Trivandrum Tobacco study (male Cohort of 400, 000 subjects) supported by NIH & University of Oxford (ii) GERD & gut microbiota supported by Karolinska University, (iii) Non-alcoholic fatty disease supported by NHS and (iv) Nutrition supported by IARC, WHO unit, Lyon.
Conducted more than 50 Seminars, symposia and conferences for the health professionals and gastroenterologists
Executive Director of the NGO, Population Health and Research Institute coordinating 7 studies in the community
Dr Sushila Nayyar HEPATOLOGY Oration Awarded by IMA Nagpur in 2014
Dronacharya Awards, Hepatology Awarded by Integrated Health and Wellbeing (IHW) Council and media partner CNN News18
Expert of Experts in the Task Force, ICMR
Chairman, Institutional Research Committee
Member, Institutional Ethics Committee
Guide for PhD program: Two students guided in this centre.

Publications
| | | | | | |
| --- | --- | --- | --- | --- | --- |
| Title | Name of Journal / Book | Publication Details (Year, Volume, Page No. etc.) | Authorship (1st / 2nd / Other) | State / Regional / National / International | Indexed in |
| Hepatitis B virus subgenotype A1 predominates in liver disease patients from Kerala,India. | World J Gastroenterol | 2013, 19:9294-306 | Third | International | PubMed |
| Metadoxine Versus Placebo for the Treatment of Non-alcoholic Steatohepatitis: A Randomized Controlled Trial. | J Clin Exp Hepatol | 2016,4:94-100 | First | International | PubMed, Scopus, Web of Science |
| Routine diagnosis of intestinal tuberculosis and Crohn's disease in Southern India. | World J Gastroenterol | 2014, 20:5017-24 | Second | International | PubMed |
| Faecal calprotectin levels differentiate intestinal from pulmonary tuberculosis: An observational study from Southern India | United European Gastroenterol J. | 2014, 2:397-405. | Second | International | PubMed, Scopus |
| High faecal calprotectin levels in intestinal tuberculosis are associated with granulomas in intestinal biopsies. | Infect Dis (Lond). | 2015, 47:137-43 | Second | International | Embase, PubMed, Scopus |
| A Risk Matrix Model for the Prediction of Intestinal Tuberculosis and Differentiation from Crohn's Disease | Austin J Gastroenterol. | 2015; 2: 1052-56. | Second | International | |
| Prevalence of gastro-esophageal reflux disease and its risk factors in a community-based population in southern India. | BMC Gastroenterol. | 2016, 15;16:36 | Other | International | Embase, PubMedCentral, Scopus, ProQuest, |
| Million Death Study Collaborators HIV mortality and infection in India: estimates from nationally representative mortality survey of 1.1 million homes. | BMJ. | 2010,340 doi: 10.1136/bmj.c621.PMID:20179131 | Other | International | PubMed, Web of Science |
| RGI-CGHR Investigators A nationally representative case-control study of smoking and death in India. | N Engl J Med | 2008,358(11):1137-47 | Other | International | PubMed |
| Cohort profile: the Trivandrum non-alcoholic fatty liver disease (NAFLD) cohort. | BMJ Open | 2019;9:e027244. | Other | International | PubMed, Web Of Science |
| Association of Helicobacter pylori infection with gastroesophageal reflux disease. | Arch Med Health Sci | 2016, 4:22-5 | Other | National | DOAJ, Index Copernicus |
| Periodontal disease and Helicobacter pylori infection: a community-based study using serology and rapid urease test. | J Investig Clin Dent | 2016, 7:37-45. 2 | Other | National | Medline |
| A clinical study on nimesulide hepatotoxicity. | Int J Res Med Sci | 2018;6:3523-6. | Other | National | Index Copernicus |
| INASL Guidelines on Management of Hepatitis B Virus Infection in Patients receiving Chemotherapy, Biologicals, Immunosupressants, or Corticosteroids. | | 2018. 8(4):403-431. | Other | International | PubMed, Scopus, Web of Science |
| INASL Position Statements on Prevention, Diagnosis and Management of Hepatitis B Virus Infection in India: The Andaman Statements. | J Clin Exp Hepatol. | 2018, 8(1):58-80. | Other | International | PubMed, Scopus, Web of Science |
| INASL – FOGSI Position Statement on Management of Liver Diseases in Pregnancy | | 2019, 9:383-406. | Other | International | PubMed, Scopus, Web of Science |
| Diet and inflammatory bowel disease: The Asian Working Group guidelines. | Indian J Gastroenterol. | 2019, 38(3):220-246. | Other | National | Index Medicus, Medline & Excepta Medica |
| Prescribing Pattern of Non-Steroidal Anti-Inflammatory Drugs In Out Patients of Orthopedic Departments of Secondary and Tertiary Health Care Setting. | J of Evolution of Medical and Dental Sciences | 2015; 4: 11824-11833, | Second | National | Web of Science, IndexCopernicus |
| Adverse Events of NSAIDs and Risk Factors for Adverse Effects. | J of Evolution of Medical and Dental Sciences | 2015; 4: 12870-12879, | Second | National | Web of Science, IndexCopernicus |
| Pattern of use of gastroprotective agents along with anti–inflammatory and analgesics drugs. | J Evolution Med Dent Sci | 2016;5 :50-54 | Second | National | Web of Science, IndexCopernicus |
| Second hand smoke exposure in pregnancy and the risk of still birth –a case control study in a tertiary care centre in Kerala | JMSCR | 2019, 07:990-996 | other | National | Index Copernicus, Google Scholar |
| The Evaluation and Use of a Food Frequency Questionnaire Among the Population in Trivandrum, South Kerala, India | .Nutrients | 2020, 12, 383- | Senior author | International | Embase, PubMed, Scopus |
| Hyperleptinemia - an independent predictor of metabolic syndrome in the adult population in Kerala, India | Int J Res Med Sci. | 2016 ;4(9):3988-3992 | Other | National | Index Copernicus |
| Endoscopic and histopathological study of gastroesophageal reflux disease (GERD) | Global Journal For Research Analysis | 2016, 5:issue 9 | Other | National | Cross Ref, Index Medicus, Google Scholar |
| A study on prevalence and progression of Barrett's esophagus | Journal of Scientific Research, | 2016, 5, Issue : VIII, | Other | National | - |
| Relationship between leptin and markers of insulin resistance among obese subjects in Kerala, South India – A case control study. | Biomedicine | 2015; 35(2): 200-204 | Other | Int | Scopus, Excerpta Medica, Ind Med |
| Gender differences in circulating leptin levels and its association with adiposity | Int J Sci Res | 2016; 5(8):26-28. ISSN 2277-8179 | Other | Int | Index Medicus, Google Scholar Research Gate, PubMed, Crossref |

Presentations
Topic

Guest lecture / oral presentation / poster presentation / Convener of workshop

Name of the event

Conference / CME / Workshop

Venue

Dates

Level

Long term follow up and natural history of tropical pancreatitis

Posters of Excellence

United Gastroenterology Week

International conference

Barcelona

Spain 2015

2015

International

The prevalence , prognosis and outcome of SIRS, sepsis and severe sepsis in patients with cirrhosis of liver

Poster presentation

United Gastroenterology Week

International conference

Barcelona

Spain 2015




International

Smoking, drinking ,adiposity and mortality in the Trivandrum Urban/ rural tobacco study

Poster Presentation

World Conference of Epidemiology

International conference

Saithamo, Japan 2017




International

Imaging profile of hepatocellular carcinoma ( HCC ) in Kerala, South

Poster Presentation

Asia Pacific Association of Study of liver disease

Conference

Delhi , India

2018




International

Pattern of chronic hepatitis B and modalities of treatment in Kerala , South India

Poster Presentation

World Congress of Gastroenterology

Conference

Isthambul, Turkey 2019




International

Population Based Study of Liver Stiffness Using Fibroscan in a Transition Society of South Kerala,India:

Poster Presentation

World Congress of Gastroenterology

Conference

Isthambul, Turkey 2019




International

Difficult to treat chronic diarrhea

Guest Lecture

North East Gastroenterology. Conference

Conference

Gawahati

Assam 2020




National

Research Projects
Project

Completed / Ongoing

Funded Y/N

Collaborated Y/N

Published Y/N

Fighting the fatty liver pandemic: Developing effective protocols and local expertise to deliver and evaluate interventions for better liver and metabolic health in India

Completed

Yes

Yes




Dietary, life style and genetic factors associated with dyslipidemia, insulin resistance, non-alcoholic fatty liver disease and it's severity in a population based cohort in South India.

Completed

Yes

Yes



















PREVALENCE OF UPPER GI DISORDERS IN THE GENERAL POPULATION AND STOMACH MICROBIOTA AMONG PATIENTS WITH GI LESIONS IN KERALA, INDIA

Completed

Yes

Yes




Differentiating intestinal Tuberculosis and crohn's in South India using fecal Calprotectin

Completed

Yes

Yes




Brown Fat Function (BAT) and non-alcoholic fatty liver disease (NAFLD) in people of Indian origin.

Completed

Yes

Yes




PATTERN OF GENETIC POLYMORPHISMS

AMONG OBESE SUBJECTS IN KERALA PATTERN OF GENETIC POLYMORPHISMS AMONG OBESE SUBJECTS IN KERALA

completed

Yes

Yes




Trivandrum Tobacco study Urban and Rural

Ongoing

Yes

Yes




Epidemiology of chronic liver disease

Ongoing

Yes

No




Scarred liver in Trivandrum(SLIT)

Ongoing

Yes

Yes




Sarcopenia and outcome in cirrhosis liver

Ongoing

No

No




Cross sectional evaluation of clinical and metabolic parameters in Non alcoholic fatty liver disease and its association with carotis artery intima media thickness (DNB thesis protocol)

Ongoing

Yes

No